A DUCK!
This week's farmers' market yielded some excellent treats, including fresh plums and, yes, duck! See below: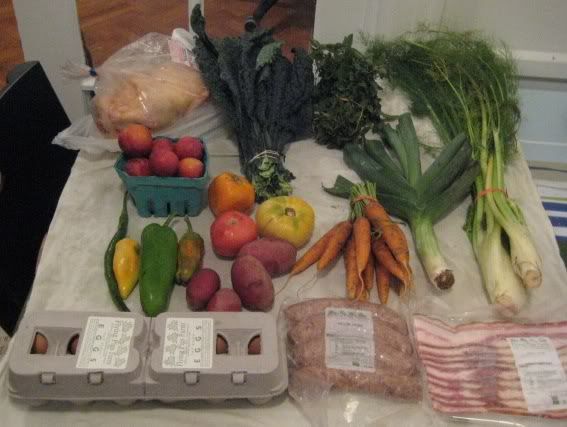 (Clockwise from the eggs: Eggs, hot peppers, plums, duck, tuscan kale, peppermint, fennel, smoked bacon, spiced sausage, pink potatoes, heirloom tomatoes, carrots and a leek)
Now, duck isn't something we usually eat because it has never been at the market in the years since I began my experiment. But one of the regular meat purveyors (they mostly do lamb) had a sign on their cooler with the magic letters D-U-C-K handwritten on a sign and of course I decided then and there that I was going to buy a duck. I ended up roasting it, which worked OK. Ended up a bit dry (not a surprised, as duck is notoriously difficult to roast and this is only our second time) and so I'll probably braise it next time, or brine it as Yags suggested. But I had a lot of awesome rendered duck fat at the end, so of course I used that fat when sauteeing the kale (served with a bit of salt and a spritz of lemon) and the leek + hot pepper for the wild rice pilaf I made. And of course they did the proper thing and included the liver, so I used that as an appetizer.
+++++++
Dinner was as follows:
Pan-seared duck liver with vino cotto and sliced heirloom tomato
Roast duck with rye-whiskey-poached plums
Wild rice pilaf with leeks and hot peppers
Sauteed tuscan kale with lemon
Plums (we just used the rest of the plum confit because it was there) and creme fraiche with fresh cracked black pepper
+++++++
We shared the bounty with

yagathai
, who was in NYC for part of the weekend, and we discussed much in the way of cooking. Yags now has a kitchen of his own and is as aggro about his food as I am. it is no surprise that he, doug and I get along so well. For those who like reading about cooking, you might want to check his LJ, too, as he has posted some great recipes/ideas there over the past month or so.